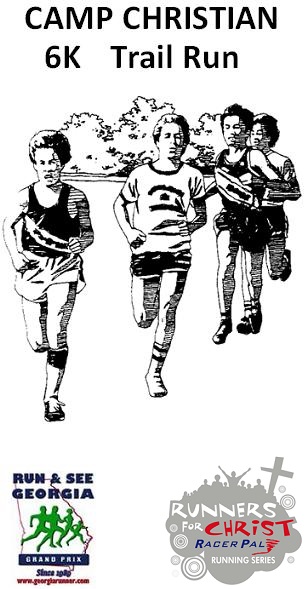 Date
June 13, 2015
8:00 AM
Start Location
Camp Christian Conference Center, 3735 Dennard Hardy Rd, Gordon, GA
Fees
6K
Virtual runner
(T-Shirt Only)
Through 6/5

$20
$10
Race Day
$25
N/A
$1 discount for Active Military and Runners & Walkers for Christ members who register by June 5th.
Registration

Register on site race day beginning at 7:00 AM.

Event Information
Please join us for the Camp Christian 6K Trail Run on Saturday, June 13th, at 8:00 AM, at beautiful Camp Christian in Gordon, GA. The event is sponsored by the Wilkinson County Chamber of Commerce and proceeds will benefit Camp Christian and local Chamber Community Projects.
Course: The race will be run on the property of Camp Christian. It is a great course which features a little bit of everything; single track, double track, hills, shallow creek crossings, and technical areas. The course offers something for everyone who wants to experience a trail run. Water and Gatorade® will be available on the course.
Shirts & Awards: All Pre-registered participants (deadline, June 5th) will receive an Adult Sized Technical T-Shirt. Race Day registration participants will receive a Technical T-shirt until supplies are exhausted. Medals will be awarded for the top 3 finish times (male & female) in all age groups. There will be Overall Trophies awarded to the top male/female runners and the top male/female Masters runners.
For More Information
Please call Race Director Greg Bazemore at (478) 456-5042 or Assistant Race Director Jonathan Jackson at (478) 946-1122 for more information.