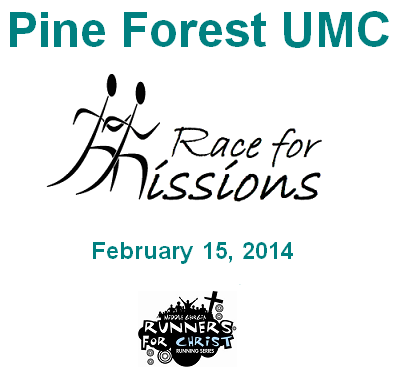 Date
February 15, 2014
7K at 8:30 AM
3K at 9:45 AM
Start Location
Pine Forest United Methodist Church, 400 Woods Ave., Dublin, GA
Fees
7K
3K
7K + 3K
Active Military and
Running Club Members
Through Feb 7th

$20
$20
$25
$18 ($23 for 7K + 3K)
Feb 8th-Feb 13th
$25
$25
$30
$23 ($28 for 7K + 3K)
No race day registration.
Registration
Register online through February 13th. No service fee!
Register by mail (.pdf) through February 7th.
Register and pick up race packets Friday, February 14th from 4:00 until 6:00 pm at Pine Forest UMC.
Application must be received by February 7th to be guaranteed a t-shirt.

View registered participants.
Event Information

All race proceeds go towards Pine Forest missions projects
Flat and inside city, start and finish at Pine Forest United Methodist Church, 400 Woods Ave., Dublin
Run one or run both for a 10K
Both courses are certified and eligible for state records
Part of the Runners for Christ Running series
Age Groups: 10 & under | 11-14 | 15-19 | 20-29 | 30-39 | 40-49 | 50-59 | 60-69 | 70 & over
For More Information
Contact Catherine Wrighter at (478) 290-4344 or catwrighter@hotmail.com, or visit www.pfumc.com.