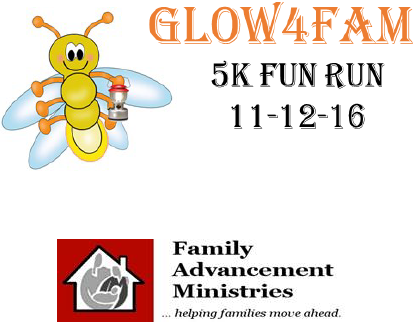 Date
November 12, 2016
5:00 PM

Start Location
Ocmulgee National Monument, 1207 Emery Hwy, Macon, GA

| Fees | Adults | Children 12 & under |
| --- | --- | --- |
| Through November 4 | $25 | $15 |
| November 5 - Race Day | $30 | $20 |
T-shirts are guaranteed only to those who are pre-registered by October 22nd.
Registration
Register race day beginning at 4:00pm.

Event Information
Family Advancement Ministries (FAM) is a Catholic organization partnering with the local community to help families move ahead toward independence and self-sufficiency. The goal of the Glow 4 FAM run is to raise awareness of the services offered by FAM, and to raise funds to help families in the local community.
For More Information
For more information, please visit our website or contact Sachie Thorne at Sachie@FamilyAdvancementMinistries.org.