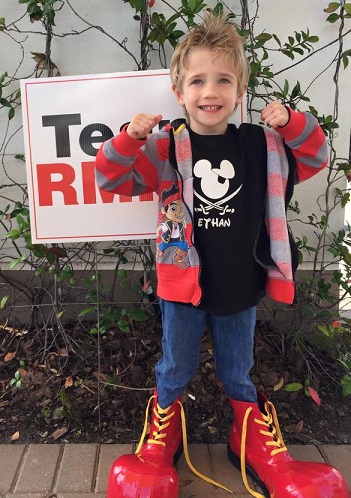 Date
February 21-24, 2019

Start Location
Walt Disney World®, Orlando, FL
Fees Includes all event benefits provided by runDisney (e.g. event shirt and medal(s))
5K - $90
10K - $130
Half Marathon - $205
Challenge (Half & 10K) - $355

Fundraising Minimums:
Minimum fundraising amounts vary according to the race entry secured on Team RMHC: 5k - $650; 10k - $750; Half Marathon - $850 or Challenge - $1,000 for our families. We ask that participants set up a fundraising page through our secure and easy online service. This is a great way to track your progress and the overall impact of Team RMHC. Your commitment may be completed as an individual or as part of a fundraising team. (Teams are responsible for raising the minimum for EACH PERSON on your fundraising team.)
Registration Fees are not included in the Fundraising Minimum. Registration fees are paid to RMHC via the "Register online" link below. Your paid race registration with runDisney is GUARANTEED. Once you reach $400 in fundraising, you will be provided with a link to submit your information to runDisney.
Fundraising Deadlines:
$400 (per person) by November 10, 2018
Minimum fundraising amounts should be raised/turned in by January 2, 2019

Deadlines must be met in order to receive all the Team RMHC benefits. As a member of Team RMHC, you are responsible for donating the difference between funds raised and the minimum due at each deadline. By reaching the fundraising minimum, you ensure that RMHC recovers the cost of your participation and maximizes direct funding for the families that we serve.
Refund Policy:
Withdraw before September 1, 2018:
Registration fee will be refunded less a $30 processing fee
Withdraw before November 10, 2018:
Registration fee will be refunded less a $60 processing fee
Withdraw after November 10, 2018:
Registration fee is non-refundable
Any funds raised or donated by a participant that withdraws stay with RMHC.
Registration
Register online
now with no service fee. Online registration closes when all of our slots are filled, or January 1, 2019, whichever comes first.
Event Information
Charity Team Details
Running and fundraising as part of our team comes with great benefits, including:
Guaranteed race entry and Special Group registration that includes all benefits provided by runDisney
Team RMHC gear
Customized online fundraising page and tips to help you reach your goal
Personal travel planning assistance for your entire Disney event weekend
Team RMHC Hospitality Suite on Thursday/Friday at host hotel
NEW THIS YEAR!
A minimum two-night hotel and two-day park package are required with all Charity participation options. After joining our team, you will be introduced to an official Disney travel coordinator who will assist you with building a customized plan for your trip to Walt Disney World. You will be able to take advantage of special resort pricing for event weekend, add nights to your stay, arrange theme park tickets and dining plans, as well as add other amenities to your stay.
Please note: If you live within a 90 mile radius, you may waive the two-night minimum hotel stay requirement. Additionally, there are concessions for Annual Passholders and Disney Vacation Club members.
Fundraising Incentives and Team RMHC Details
Join our team and receive a Team RMHC Race Day tech shirt, swag bag, and additional Team RMHC finisher's medal - yay, more bling! (provided by RMHC Central Georgia)
When you reach $400 in donations, you will receive a Team RMHC t-shirt
All qualified Team Members (meeting their respective fundraising minimums in donations) will be invited to attend the Team RMHC Celebration Brunch on Saturday morning, February 24th. Join us for team photos and meet your fellow teammates! (8-10am at the McDonald's at Walt Disney World® Resort)
Other Fundraising Awards: $1,250 in donations - Team RMHC ornament; $2,500 in donations - Team RMHC ornament and jacket, in addition to a 365 Days of Caring Society membership at RMHC Central Georgia
Top fundraiser wins 2 free room nights at the host hotel for this event ($2,500 minimum donations to qualify)
Fundraising incentives are for funds received by RMHC by February 1, 2019
Already registered for the race(s) via runDisney but still want to be part of Team RMHC? You can still be a part of Team RMHC - be a "Red Shoe" Participant! For a $30 registration fee, you will be included in all the Team RMHC activities, goodies, incentives and fundraising guidelines. Register as a "Red Shoe" participant using our online registration form. (No race entry included.)
Can't make it that weekend? You can still be a part of Team RMHC/Disney Princess Half Marathon Weekend presented by Children's Miracle Network Hospitals - be a Virtual Participant! For a $30 registration fee, you still are included in all the Team RMHC goodies, incentives and fundraising guidelines...... You choose your location, your event & your date! Register as a virtual participant using our online registration form.
Why is this important? In the 11th week of my pregnancy, my husband and I were informed that our unborn twins had a condition known as Twin to Twin Transfusion Syndrome. One twin was sending her blood flow to the other twin, compromising the health and viability of both babies. After being monitored closely for several weeks, we were sent across the state to see a specialist in neonatology and receive a treatment consult. The Ronald McDonald House opened their doors and gave us a peaceful retreat from the stress of the hospital. I then moved to Florida to live with my parents for the remainder of the pregnancy. My husband was being stationed in Cuba for two years, and I wasn't able to accompany him until after the girls were born. After spending three months on bed rest and two weeks in the hospital, it was finally time for the girls to arrive. The doctor prepared us for possible complications, but the girls were fairly healthy. Sophia was born with Amniotic Band Syndrome and required surgery on the day she was born. She had bands wrapped around her left arm and toes that were acting as tourniquets, restricting blood flow to the rest of the appendages. After her surgery, the girls remained in the level 3 NICU for 10 days. My husband and I were able to stay next door at The Ronald McDonald House during that entire time. When the girls were ten months old, we returned to Orlando for Sophia to undergo reconstructive surgery on her arm to correct the damage caused by the amniotic bands. Once again, The Ronald McDonald House opened their doors for us so we could stay near the hospital. That entire year was incredibly difficult for our family. While facing the heartbreak of a challenging pregnancy and birth, we had to deal with a military move, a 6 month separation while my husband was in Cuba without us, and the difficult travel between Cuba and the States for surgery and appointments. The Ronald McDonald House gave us a place to stay, a place to find peace and comfort, a place to receive support from other families dealing with difficulties. We will be forever grateful for their investment in our family, and I am so very happy to raise money for this amazing group. We will never forget the kindness of the staff, the hospitality of the volunteers, and the shared prayers of the other families staying with us at each house. - Mary Pavlischek, Team RMHC 2015
For More Information
Visit our website at www.rmhccga.org or contact us at dm@rmhccga.org or 478.746.4090.
By joining Team RMHC - 2019 runDisney Princess Half Marathon Weekend presented by Children's Miracle Network Hospitals Charity Team for this race, you are personally pledging to raise the respective fundraising minimum per your race entry. If your minimum has not been met by January 1, 2019, Ronald McDonald House Charities staff will contact you to confirm your qualified position on Team RMHC.
All Disney names and logos are used with permission, which in no way constitutes an endorsement by Disney, express or implied, of any organization, company, or fundraising campaign. Disney does not control or guarantee the accuracy, relevance, timeliness or completeness of information contained on this website. The views and opinions of authors expressed herein do not necessarily reflect those of Disney, and agreement with those views may not be implied by use of the Disney names and logos. ©Disney