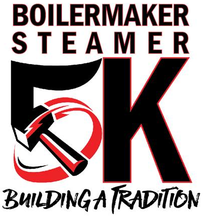 Date
September 22, 2019
8:00 am: 5K
8:02 am: 2 mile walk
8:45 am: Kids Fun Run (50 yard run on FB field) Ages 2-8

Start Location
Bradley Bourbonnais Community High School, 700 West North St, Bradley, IL

Fees

| 5K | 2 Mile | Kids Fun Run |
| --- | --- | --- |
| $25 | $25 | $10 |
Shirt not guaranteed for late registrations after September 10th (fee does not change).
Registration
Register race day beginning at 7:00 a.m.

Event Information
The Boilermaker Steamer is a fundraiser for the Bradley Bourbonnais Community High School (BBCHS):
Boys and Girls Cross Country Team
Boys and Girls Track Team
APT Program
The race starts at the BBCHS front entrance on North Street, goes through the BBCHS campus and Perry Farm, and ends at the BBCHS football field. The Kids Fun Run, for kids ages 2-8, is a 50 yard run on the football field.
For More Information
For more information, please contact Tony Swafford (tswafford@bbchs.org), Adam Vogel (avogel@bbchs.org), or Freddie Dudek (fdudek@bbchs.org).