Racer Pal provides low cost, flexible, and powerful online registration services to race directors and other event organizers. Credit card payments are processed by PayPal (www.paypal.com) or Stripe (www.stripe.com) and are deposited directly into the event organizer's own PayPal or Stripe account.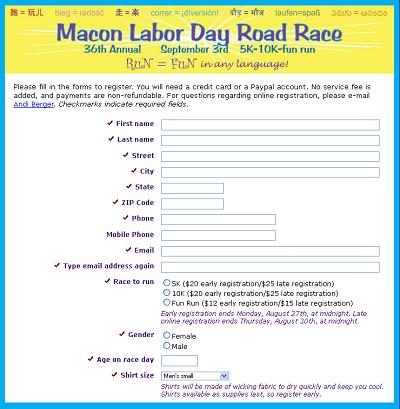 Racer Pal provides:
Custom registration forms set up for you based on your event flyer and instructions
payment handling by PayPal or Stripe directly to event organizer's PayPal or Stripe account
Powerful Administrative Utility for event organizers

View and edit registrant data
Download registrant data to CSV file for import into MS Excel
Add data from mail-in registration forms
Separate paid and unpaid registrants
Send payment reminder emails
View payment details and summaries
Manage shirt size inventory

Custom confirmation emails to registrants upon successful payment
Secure Socket Layer (SSL) encryption to secure registrants' form information
Optional link to publish list of paid registrants
When you choose to use the Racer Pal service, I will develop a prototype online registration form and event overview page based on your event flyer or instructions. You will have the opportunity to review the prototype forms and request changes to field names, field types, field order, descriptions, prompts, labels, colors, logo, etc. I will integrate your choices into online forms hosted on the Racer Pal website and place an entry for your event on the Racer Pal event calendar. If your event qualifies to be listed on the Macon Tracks Running Club calendar, a link can be placed there for you.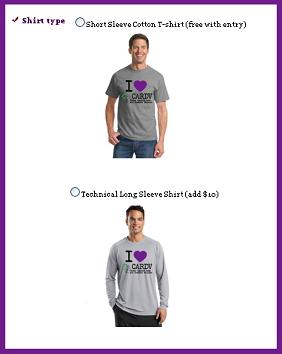 Racer Pal Software Features:
optional service fee charged to registrants (flat rate, percentage, combination of flat rate and percentage, or none)
"shopping cart" supports multiple entries with a single credit card transaction
discount/coupon codes with optional expiration or limited number of uses
multiple registration cutoff times with separate fees (e.g. early, late, final)
participant limits
add-on fees/discounts for specific items (i.e. discount for club members, extra fee for XXXL shirts)
conditional fields and pages
group/team support
coupon code purchase for large groups
optional links to your web site
Macon Tracks Running Club membership verification
customized "behind-the-scenes" logic as requested
When an individual registers for your event, Racer Pal stores the registration information in its database, and directs the registrant to PayPal or Stripe for payment. Registrants choose to pay with their credit card, debit card, or PayPal account (if using PayPal). Payments (minus PayPal or Stripe transaction fees) go directly to your own account without Racer Pal's knowledge of your account password. If you do not already have a PayPal or Stripe account, I can guide you through the simple and free account set up. If using PayPal, your PayPal account must be a "verified" Premier or Business account in order to accept credit card payments from registrants who do not have a PayPal account. PayPal transaction fees start at 49 cents per transaction plus 3.49% of the transaction amount (49 cents plus 1.99% for non-profits) and can go down as your monthly revenue goes up. Stripe transaction fees are 30 cents per transaction plus 2.9% of the transaction amount. For a $20 event fee, the PayPal transaction fee would start at $1.19 (89 cents for non-profits). For a $20 event fee, the Stripe transaction fee would be 88 cents. You may choose to absorb this fee into your event fee or pass it on to the registrant. When Racer Pal receives notification from PayPal or Stripe that the registrant has successfully paid, Racer Pal updates its database and sends your custom confirmation email to the registrant. You will be able to download up-to-the-minute registrant data as a comma separated value (CSV) file that can be easily imported into an Excel spreadsheet.
The Racer Pal fee is 75 cents per registrant. This fee is in addition to the PayPal or Stripe fee. When using PayPal to process transactions, Racer Pal does not deduct fees as transactions occur, but requires separate payment from the event organizer (via check or my PayPal account).
I am a semi-retired software developer with over 20 years of experience designing, coding, and testing sophisticated software applications. I began regularly participating in local races several years ago, and soon became frustrated with the high fees and inflexibility of the available online registration services. After handling online registration for the Macon Tracks Running Club as a volunteer, I decided to develop Racer Pal to simplify my task of setting up registration forms for the running club and to provide a lower cost online registration alternative to racers and event organizers. The software has evolved from its initial use for the 2010 Labor Day Road Race (with over 2000 participants) to a feature-rich automated solution. More features can be added as needed.
Please visit the Racer Pal event calendar, where you can view active Racer Pal registration forms. Also visit the Racer Pal Administrative utility description, which details the functionality of the event organizer's administrative tool.
Terms of Use
Parties other than Racer Pal provide access to their Events on this site; these parties are hereinafter referred to as Event Organizers. All matters concerning the services desired from a Event Organizer, including but not limited to purchase terms, payment terms, warranties, and guarantees, are solely between you and the Event Organizer. Racer Pal makes no warranties or representations whatsoever with regard to any goods or services provided by Event Organizers. You will not consider Racer Pal, nor will Racer Pal be construed as, a party to such transactions, whether or not Racer Pal may have received some form of revenue or other remuneration in connection with the transaction. You agree that Racer Pal will not be liable for any costs or damages arising out of such transactions, either directly or indirectly. You also agree and understand that Racer Pal is not responsible for examining or evaluating, and Racer Pal does not warrant the offerings of, any Event Organizer. Racer Pal does not assume any responsibility or liability for the actions, product or content any Event Organizer. You should carefully review each Event Organizer's privacy statements and other conditions of use. It is the responsibility of the Event Organizer to communicate its refund policy to you and to issue refunds to you if applicable. You understand and agree that Event Organizers reserve the right to cancel Events for various reasons, including, without limitation, weather events (including, but not limited to, heat, tornadoes, earthquakes, fires, storms, lightning and floods), accidents, acts of war or terrorism, military conflicts or riots or for any reason that would affect the safety and security of Event participants and spectators. In the event of such cancellation, there will be no refund of your payment unless authorized by the Event Organizer. If you want to request a refund, you must request the refund directly from the Event Organizer. To the extent that an Event is cancelled or does not meet your expectations for any reason, you must contact the Event Organizer and your sole and exclusive remedy with respect to the Event is with the Event Organizer and not with Racer Pal. All communications or disputes regarding refunds are between the Event Organizer and you. Racer Pal will not be responsible or liable in any way for refunds, errors in issuing refunds or lack of refunds in connection with an Event. In addition, Racer Pal is not responsible for the truth or accuracy of any listings by Event Organizers or the ability of any Event Organizer to perform, hold an Event, or complete a transaction.
Best regards,
Andi Berger
Email: andi@racerpal.com
Website: www.racerpal.com